When it comes to cinema, Kolkata, the heart of Bengsl and cultural capital of India, home in imminent artists and visionaries, can eauly, and righthilly, glout about being the birthplace of maestros who have Irathed life in Indian cinema and altered the grammar and syntax of world cinema therely changing the trajectory of the films produced here forever With an audience harbouring a love for films as deep as an abyss, it is only natural that Kolkata has a ciné culture that continues to live and thrive despite its countless revolutions and continuous evolution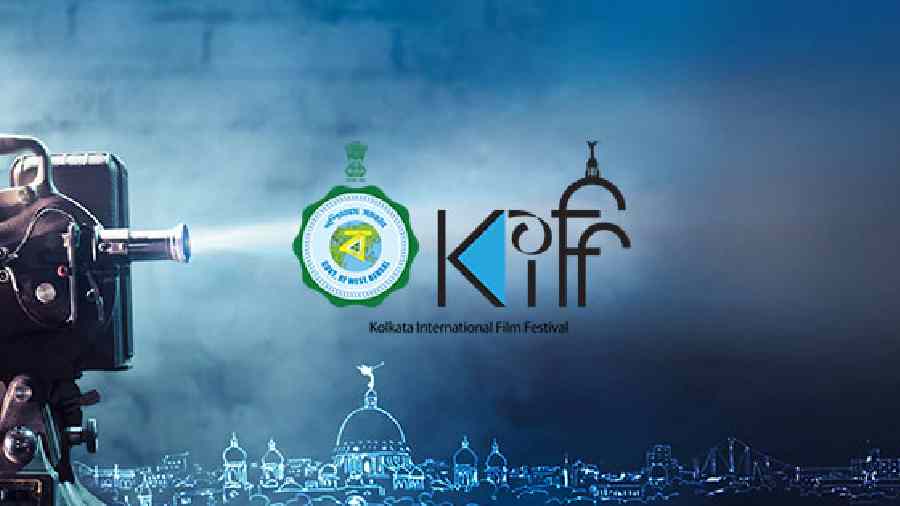 The flagship event of the Department of Information and Cultural Affairs, Government of West Bengal Kolkata International Film Festival or KIFF (credited by FLAPF). transcends the boundaries of language, region and culture by speaking a language common to all-the language that cinema inShowcasing and celebrating the best of world cinema, KIFE stays firmly rooted as a stalwart of the film ecosystem of India and of the world as it continues to bring together multiple stakeholders in the film making arena. When KIFF started its journey in the year 1995, it was accessible only to a select class of clites. Since 2011, Hon'ble Chief Minister, Mamata Banerjee has ensured that this film festival be available to all those desirous of attending it: "Cinema for all, festival for all is what KIFF aims at.
Yet again committed to nurturing new talents in cinema, uniting people from diverse backgrounds, all imbibed with the same passion for films, and fostering ideas forged in the fire of that passion, the 28th edition of KIFF is scheduled to commence on the 15th of December, 2022, with the inauguration taking place at Netaji Indoor Stadium. The screenings of the 28th edition of KIFF will be held at Nandan, Sisle Mancha, Rahindra OkakuraBhawan. Nazrul Tirtha and Radha Studio at Tollygunje (Cinema Centenary Building) from the 15th to the 22nd of December. This year, the festival pays homage to Jean-Luc Godard, pioneer of the French New Wave, centenary tribute to Alain Resnais, Pier Paol Pasolini, Michael Cacoyannis, Hrishikesh Mukherjee, A Sen, Bharat Devi, K. Asif. Ali Akhar Khan, Dilip Kuma and special tributes to Tarun Majumdar, Angela Lansbury Pradip Mukherjee and Shiv Kumar Sharma. With screen coloured by a range of his unforgettable films, the fil festival shall also honour living legend Amitabh Bachcha the Angry Young Man of Hindi Cinema. To celebrate ti spirit of sportsmanship and instil in our minds the wor of indomitable resolve, KIFF is introducing the 'Game C
section, dedicated to sports and the youth We ardently believe that the 28th Kolkata International Fi Festival will persist in celebrating the art of cinema, brings film enthusiasts of every kind under the same roof. We with great conviction that we shall exceed all expectation the way we do year after year, as the glorious 27 years of past testify, and only get bigger and better with time.