KOLKATA, SEPTEMBER 22, 2023: Taj City Centre Newtown, Kolkata, is thrilled to showcase an enchanting art exhibition titled "Paints & Strokes." In this exhibition, the rich cultural essence of the "City of Joy" comes to life through the captivating artworks of the renowned artist Avanish Trivedi. This vibrant exhibition guarantees to take art lovers and culture enthusiasts on a visual journey through the heart of Calcutta, featuring a mesmerizing collection of contemporary paintings. The exhibition will be open until September 23rd. It promises to enthral art enthusiasts, collectors, and guests, providing a visual extravaganza filled with vivid colours, intricate textures, and profound emotions.
"Paints & Strokes" is an artistic tribute to the rich and dynamic qualities of acrylic as an art medium, spotlighting the exceptional talent of the acclaimed artist Avanish Trivedi. Trivedi has expertly captured the essence of Calcutta's streets with a vivid and lively palette on canvas. Set against the backdrop of Shamiana, known for its contemporary design and refined atmosphere, this exhibition effortlessly blends art and surroundings, forming a harmonious fusion of artistic expression and environment.
Calcutta, often referred to as the "City of Joy," has long been a source of inspiration for artists, writers, and poets. With its deep-rooted history, stunning architecture, bustling streets, and the Ganges River flowing through its veins, Kolkata has a unique charm that captures the imagination of all who visit.
The exhibition will present a wide array of artworks, spanning from watercolours to acrylic paintings. Avinash Trivedi's creations eloquently depict the everyday existence and culture of Calcutta, offering a perspective that often remains familiar yet overlooked and unrecorded. Whether it's the tranquil rickshaw pullers amid walls adorned with political graffiti in a quiet alley, bustling streets teeming with people and crows, the iconic trams, or the vibrant Durga Puja celebrations of Calcutta, visitors can anticipate an absorbing and immersive journey through these captivating portrayals.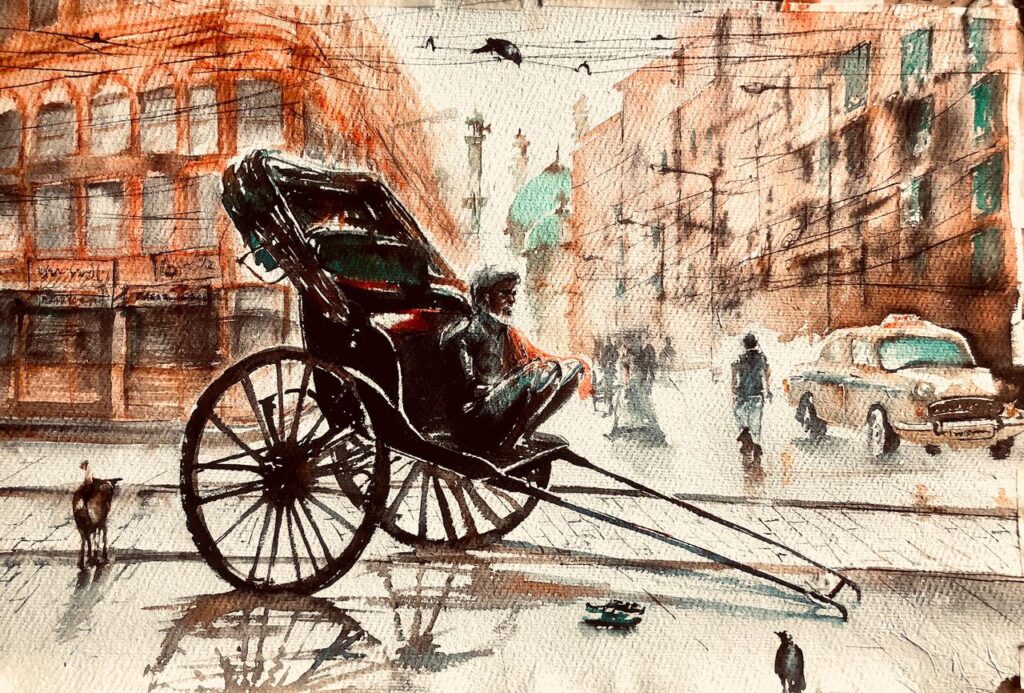 Avanish Trivedi, a self-taught artist employed at Tata Consultancy Services, has a deep-seated passion for the world of art. He has had the privilege of showcasing his artistic creations at renowned galleries worldwide. Furthermore, he has conducted two individual art exhibitions, one at Taj Bengal and another in the California Bay Area, solidifying his presence in the art world.
Commenting on the occasion, Mr. Indranil Ray, General Manager, Taj City Centre Newtown Kolkata said, "We are thrilled to present Paints & Strokes which showcases the incredible talent and creativity of contemporary artist Avanish Trivedi. Our goal is to create a platform where artists can showcase their work and engage with a broader audience, fostering a deeper appreciation for art."
During a live painting demonstration, the contemporary artist, Mr. Avanish Trivedi, expressed, "The majority of my art is rooted in the essence of Calcutta, a city brimming with emotions and untold tales, which I strive to capture through the medium of watercolour. My Calcutta Nostalgia Series was inaugurated at Taj Bengal, and ever since, it has garnered immense affection. Taj has graciously provided me with the opportunity to commemorate the 5th anniversary of this series. I extend my gratitude to my mentor, Jiban Biwas, and I am elated that Taj City Centre Newtown, Kolkata, has offered me a platform to exhibit my artistic endeavours."